By Pamela Palumbo, CEO
---
In our lives, we will encounter moments when the choice we make will dictate the rest of our lives. For the women we serve, one of those moments is when they see the second line appear on their pregnancy test: Pregnant.
She has a decision to make. One that will forever change the course of her life.
Everyday in our offices in Annapolis, Bowie and Severna Park, the battle for life rages on. Here, God moves the battle to the counseling room, a safe, quiet space where our clients can slow down, take a breath, and focus on the only voices that matter: God's, her's, and the silent cries of her pre-born baby.
Here is Corrie's account of what happens inside that sacred space.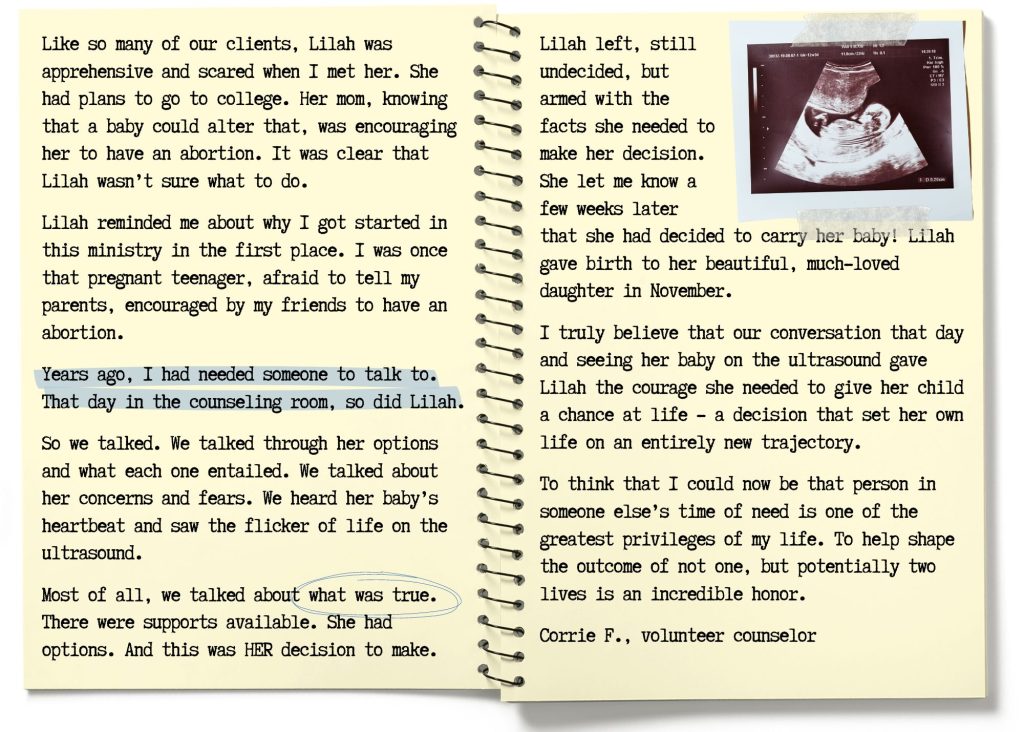 One decision can change the trajectory of our lives.
We can't make that decision for her. Our support for her takes other forms. We surround her with the protection of prayer. We supply her with physical relief in the form of free services, including counseling and medical care. We arm her with truths about her own courage and strength.
God knew exactly what Lilah needed. He pulled together friends, family, volunteers, and even partners from Wellspring Life Ministry (partners like you!) who were complete strangers to her – and built an army just for her.
In the mad rush towards Christmas, it is easy to forget the spiritual battle that rages around us. This month – today! – I encourage you to take the field on the side of Life, and become a partner with Wellspring Life Ministry.
Pressing on!