By Pamela Palumbo, CEO
---
This year, Roe v Wade was overturned – and we all celebrated! What a victory for babies, and women!
However, the verse that God has been bringing to mind month after month is not about peace, or stillness, or even celebration. It is a verse of action. Press on, Paul exhorted the Philippians (and us!). Set your mind on God, block out the evil around us, and press on in our calling.
Truthfully, the war on life is still raging. In Maryland, abortion is legal up until birth. New clinics are popping up as more and more women come into our home state to access abortion services.
As we close out the year, I want you to hear directly from the volunteers and staff who are on the front lines, caring for women and fighting for babies. Today, I share notes from Jen, our new Nurse Manager: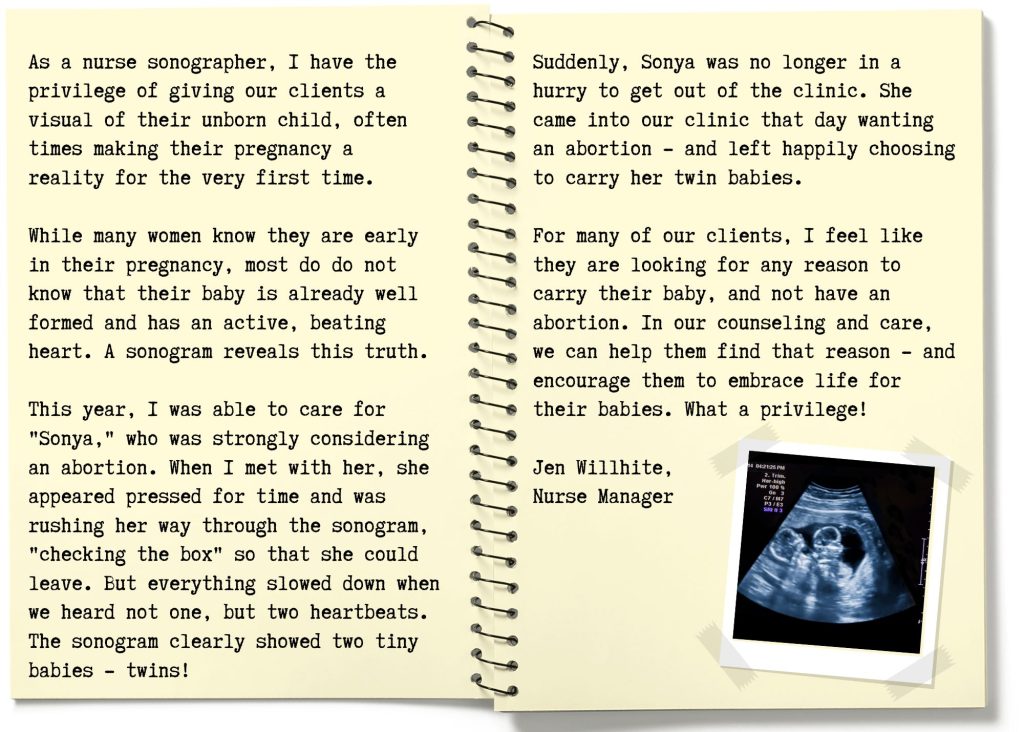 What a privilege, indeed! Twins!
Sharon, God is calling all of us to join in this fight for Life in our community. When you partner financially with Wellspring Life Ministry, you join forces with Jen and take your place on the frontlines.
Because of ministry partners like you, Sonya was able to have a happy ending to her story. When she reached out to us, Jen was ready and equipped, the sonogram machine was in tip-top shape, the counselors were available and trained, and Sonya found her reason for choosing life.
This season, as you and I prepare for and celebrate the birth of a perfect baby, we must continue to press on so that every child – created in His image – can have the opportunity to know life.
Please consider a life-saving gift today.