By Pamela Palumbo, CEO
---
Does it surprise you to know that 15% of our clients are married?
Our clients come from all walks of life: young and middle-aged, employed and unemployed, married and single. Their circumstances are all as unique as they are! But their reactions are usually similar: Shock. Dismay. Fear. Uncertainty.
Katie, a volunteer counselor and one of our off-hours text messaging staff, tells a story about one of our young married clients – and her determination to seek help, despite her situation and feeling helpless.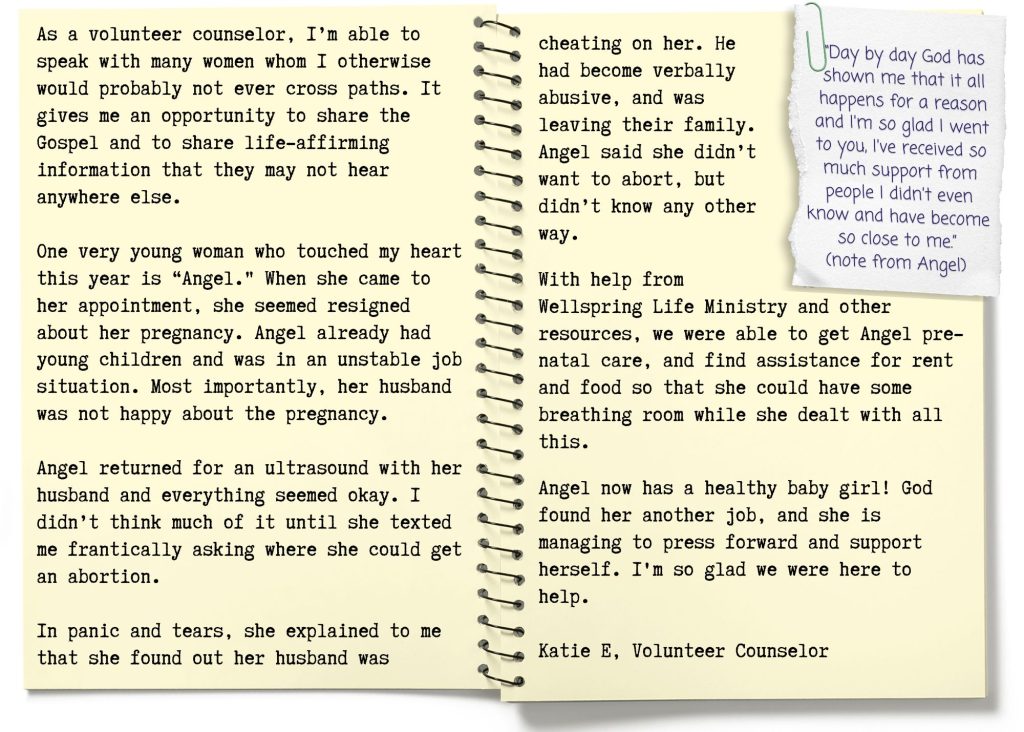 Sadly, despite her wedding ring, Angel found herself feeling completely vulnerable and helpless. Her perceived sources of security – her marriage and her job – were unstable, and she was in despair. Society (and even her own husband!) was telling her that the only out of her situation was to abort her baby.
But God stepped in and used His people to change Angel's life.
Wellspring Life Ministry, the Gospel is preached and lived out, every day. Katie and other volunteers/staff share words of hope and back them up with consistent, practical support.
Here, women like Angel find the strength they didn't know they had, a community of people they didn't know who care about them, and the never-ending, never-changing security of Jesus.
Today, as we enter the second week of Advent, may we be reminded that our real help comes from a tiny baby born to another young, betrothed mother in a very vulnerable position.
Please join us as we share this good news and help women like Angel press on despite their difficult circumstances. Consider a life-saving gift today.